Access our industry-leading Seegrid Palion™ AMR fleet with the pricing model that best aligns with your business needs. In addition to our purchasing and leasing options, Seegrid also offers a RaaS subscription model.
Seegrid's RaaS Program
Demand is increasing and more and more automation use cases are emerging. Seegrid's Robots as a Service (RaaS) subscription offering provides automation agility, enabling you to access the full portfolio of Seegrid Palion AMRs and enterprise software with the latest capabilities. The upfront investment is lower and time to deployment is reduced as compared to an outright purchase. The subscription plan includes Seegrid Palion AMRs, Fleet Central Supervisor and Fleet Geek™ software, and services needed to quickly capture the full value of Seegrid mobile automation solutions.
Flexible and Scalable AMR Solution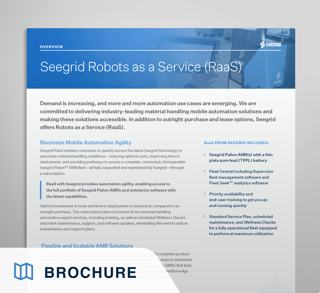 Choose the quantity and types of Palion AMRs that best suit your needs. The offering includes Palion AMRs, enterprise software, and our expert services, and is designed to streamline and reduce time to deployment. Gain access to the latest technology, software, and Seegrid material handling experts with a subscription package.
In addition to flexibility, Seegrid's RaaS model is extremely scalable—providing you with the opportunity to validate automation use cases prior to multi-facility deployments, as well as modify your fleet based on evolving production and operational needs.